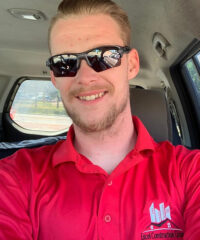 Logan with Excel Construction Group – Colorado Springs Division
My name is Logan, and I am the Sales Manager for Excel Construction Group in Colorado Springs. I joined the roofing industry over two years ago after I watched my family fall victim to a bad roofing company, which cost my them thousands in out-of-pocket expenses. I knew something wasn't right, and I felt called to find a good, honest company, learn the trade, and ensure that I wouldn't have to see anyone go through what my family went through ever again. When I found Excel, they were just beginning to open the Colorado Springs division, and I was excited to go on the journey with them.
I had met Felix, the owner of the company, as well as some of the existing employees and I knew that this was the place for me. Felix truly cares about his employees, his company's reputation, and most of all, his clients' happiness. Since joining Excel I have helped countless homeowners through the re-roofing process. I've made many friends and had so many meaningful experiences that leave me feeling satisfied and accomplished at the end of the day. This is a roofing company in Colorado Springs you can trust to take care of you and your home, and I am grateful to be a part of it.